When containers are loaded onto ships, they are secured to the ship's structure and to the container placed below it with equipment such as lashing rods, turnbuckles, twist-locks etc. This prevents the containers from moving from their places or falling into the sea during rough weather or heavy wind. This lashing operation is also known as stevedoring. Our lashing specialists work in small teams to berth and unberth vessels and to ensure containers are safely secured onboard before the ships set sail. They play a key support role to ensure goods and commodities are safely delivered to their destination.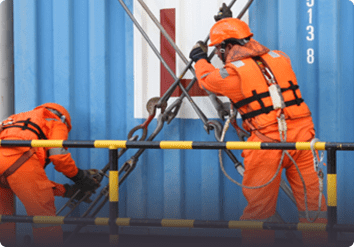 Job Description
Secure and unsecure containers onboard vessels
Berth and unberth vessels
Perform water bunkering operations
Free training, "ISC in Container Lashing Operations Course" conducted by PSA Institute, will be provided
On-job-training will be provided
Monthly gross salary up to S$ 3,600
Location

: Pasir Panjang Port Terminal

Job Requirements:
No experience needed
A pass in PSLE English. Otherwise, you will be required to pass an English Assessment Test conducted by PSA Institute
Physically fit and not afraid of heights
12-hour shift work arrangements
Contact us to find out more about the latest Joining Bonuses and Incentives!